5 Spots to Watch the World Cup Final in Queens
By Jonathan Sperling
For one fleeting month every four years, the World Cup captivates the entire globe — and then just like that, it's over.
Thirty-two teams began the tournament with dreams of glory but only two, France and Croatia, remain.
The European nations will face off  in the final at 11 am Sunday, which leaves you with one big decision: Where to watch the match?
Fortunately, Queens is one of the world's most diverse urban centers, home to crazed Croatian supporters, frenetic French fans and thousands of die-hard soccer lovers who will gather at bars and viewing parties borough-wide.
Here are five Queens Daily Eagle picks for where to catch the classic match.
Rudar Social Club
34-01 45th Street
Astoria
Croatia was a serious dark horse heading into the tournament. They had the talent to contend for a title, but, pundits said, they lacked the experience. In fact, this is only the fifth time Croatia has qualified for a World Cup since achieving independence in 1991.
Queens' Croatian population has been out in force the past month, wearing the trademark checkerboard jerseys and filling bars throughout Astoria to cheer their beloved Hrvatska.
If you want to join them, head to Rudar Social Club, also known as the United Miners Soccer Club, where Queens' Croats convene for Karlovačko and football. Don't be fooled by the unassuming entrance located beneath a green "United Miners S.C. Rudar" awning. Inside, you'll find a cozy, casual restaurant offering Croatian comfort food, a bar and, of course, multiple flat-screen TVs to watch your team defeat France.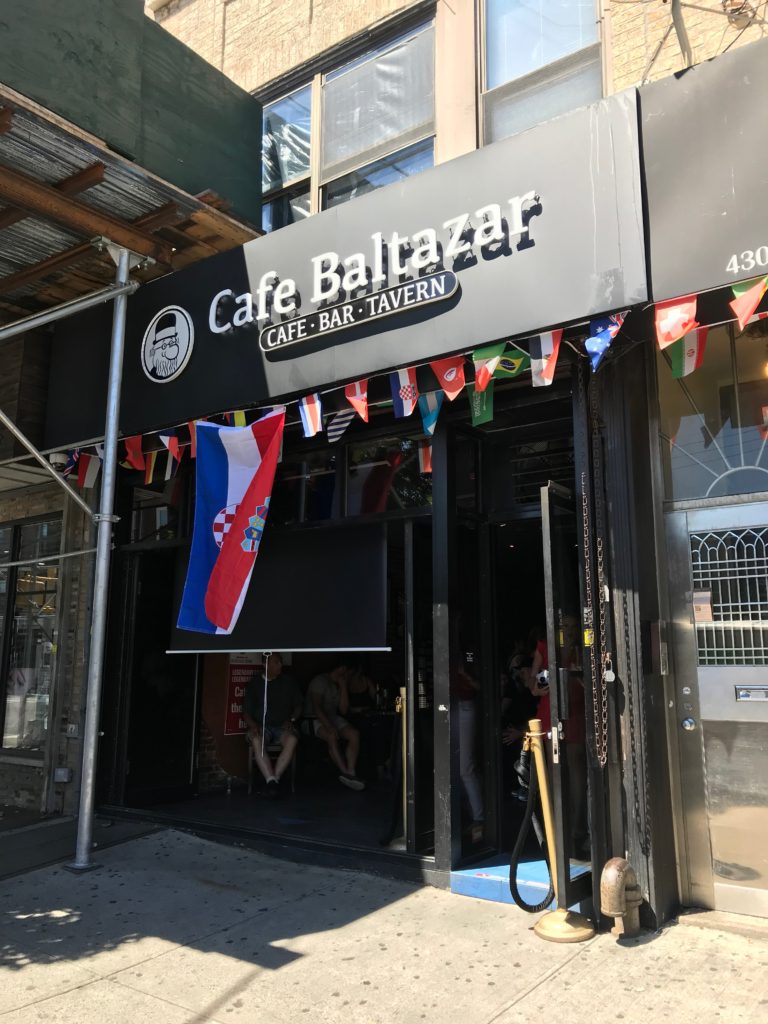 Cafe Baltazar
43-03 Broadway
Astoria
The metamorphosis of Croatian viewing venues reflects the gentrification of Astoria. Where once Croats congregated in Scorpio Bar, a divey spot where drunk fans ripped cigarettes, stood atop tables and banged on the ceiling to celebrate goals in the 2014 World Cup, families now congregate in the well lit Cafe Baltazar, a hip restaurant adorned in sleek chrome and black.
Scorpio has closed, a victim of New York City's brutal real estate market, but Baltazar is a good substitute. Arrive early to grab a spot near the projector screen in front or carve out a place near the large television in the back. Flat-panel televisions also line the wall above the bar so you can keep watching the game while waiting for your $9 liter of Karlovačko.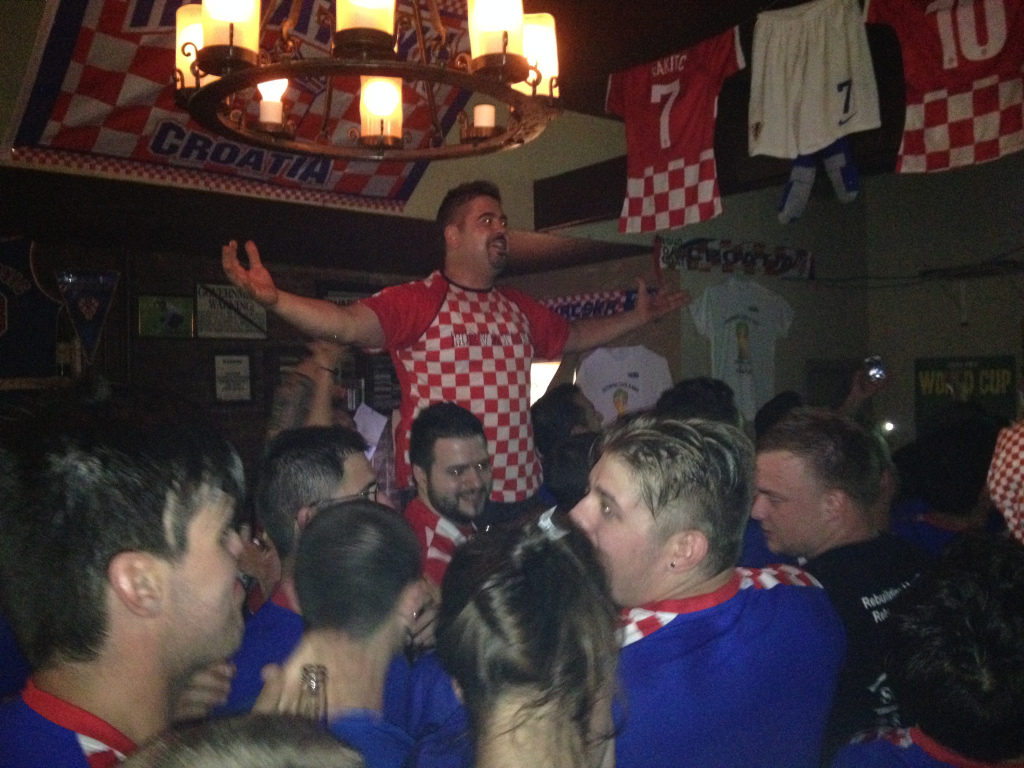 The Halfway Line
59-10 Woodside Avenue
Woodside
Watch the World Cup Final in true sports bar fashion at The Halfway Line, a newly renovated venue located in the heart of Woodside. Enjoy the game on eight enormous plasma and projection screens in the rustic, but modern, interior space. Sample a variety of beers, as well as grilled sandwiches while you watch the match. If it gets too hot by the bar, you can always cool off outside in The Halfway Line's beer garden.
Tap House
72-07 Austin Street
Forest Hills
For some solid comfort food in a no-nonsense sports bar, journey to Tap House in Forest Hills. Enjoy a variety of delicious American and Irish pub grub, such as grilled sandwiches, shepherd's pie, wraps and sliders, while you cheer and watch the game on one of 10 overhead televisions. A full bar and a variety of drinks on tap are also available. For wing-nuts, Tap House offers 10 different types of wings ranging from mild to hot.
The Garden at Studio Square
35-33 36th Street
Astoria
Looking for some neutral ground to watch the World Cup Final? Look no further than The Garden at Studio Square in Astoria. Studio Square offers a 160-foot screen in its spacious outdoor German-style beer garden, with a menu to match. Inside, you won't struggle to watch the game thanks to more than 40 flat-screen TVs, as well as a full bar. Not in Queens? Not a problem, since the venue is just minutes from Manhattan and easily accessible from the Bronx and Brooklyn. Studio Square will open up at 8 a.m. for the Final. Get there early to grab a table.