Bird Scooters Flock to Queens and Brooklyn
By Andy Katz
Compared to residents in cities like Los Angeles, Washington, D.C. and Tel Aviv,  New Yorkers have been a little late to embrace the electric scooter as an alternative to pokey buses or perpetually delayed subways.
New Yorkers have encountered one big obstacle — the vehicles are not yet street legal.
That could change soon, however. And one company is betting that Queens and Brooklyn residents — especially those affected by the looming L train shutdown — will flock to the new mode of transportation once it becomes widely available.
On Thursday, Bird Electric Vehicle Sharing invited residents of Bed-Stuy — including District Council 36 Member Robert Cornegy to their motorized scooters for a test drive around Restoration Plaza.
The towering Cornegy — a former center at St. John's University basketball team — dressed for the heat and wasted no time giving the battery-powered scooters a full workout. After zooming past the small coterie of press and stopping on a dime with the aplomb of a longtime rider, Cornegy shared his perspective.
"When things change, we have to adapt as a city," he said. "Bird scooters will likely share bike lines in the immediate future. After which, we'll determine whether, from a safety standpoint, it's more feasible to provide dedicated lanes in some areas."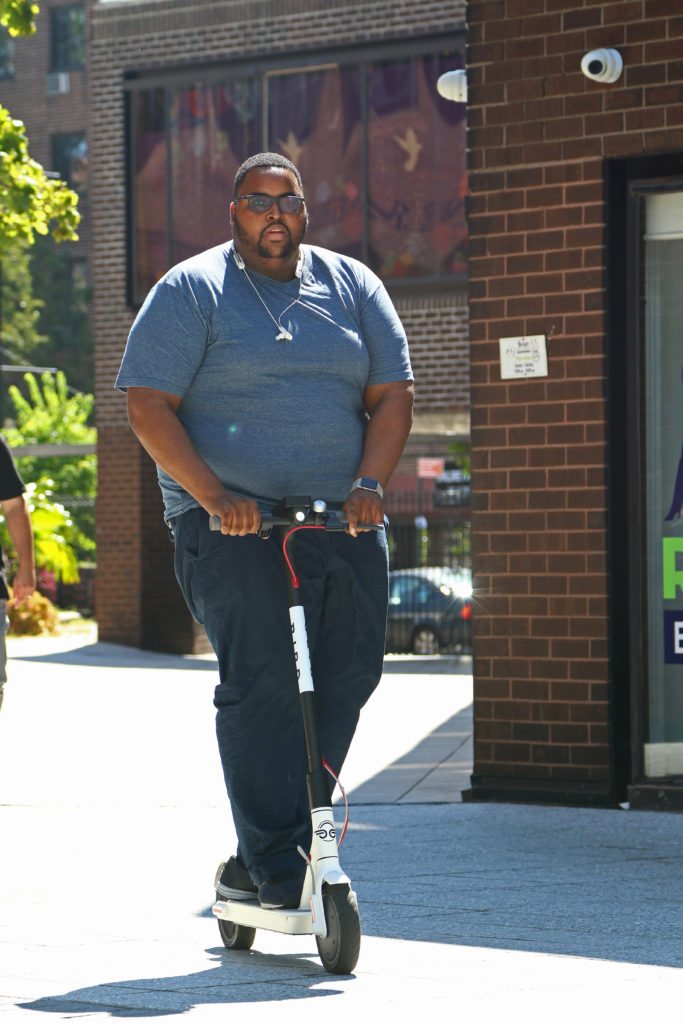 According to Bird, the process for signing up and hopping on the scooter is fairly simply. The rider registers with the company via smartphone app. A driver's license is not required to operate a powered scooter, but Bird does require each rider to provide ID proving they are 18 or older.
After finding an available scooter, the rider unlocks the vehicle with the app and goes on their way. Rides in most other cities cost 15 cents per minute, or $9 per hour. Once the traveler arrives at their destination, they place the scooter alongside a building or bicycle rack and the rental session ends.
New York State transportation law considers motorized scooters in the same category as Segways and hoverboards and  "motorized, self-balancing devices" are banned within the city.
Bird has begun lobbying the city council to make an exception for their scooters.
They may be having success. In August, the Daily News reported that City Council Transportation Committee Chair Ydanis Rodriguez and District 37 Council Member Rafael Espinal, who represents part of Brooklyn and Queens, drafted a bill that would make shared scooters street legal ahead of the L-train shutdown. Council Speaker Corey Johnson also reportedly favors the legislation as long as safety measures are enacted.
In other cities, Bird scooters with dead batteries have littered sidewalks and encountered resistance from lawmakers and residents.
Though the company pays people to locate and recharge the "dead Birds" Memphis halted the roll out until regulations and infrastructure could catch up to the new technology.
"We don't want them on the sidewalks," said a Bird official as he demonstrated the simple controls. "We're also going to provide helmets. We have about 40,000 helmets ready to send to people. All they pay is shipping."
Teri Coaxum, a professor at John Jay College of Criminal Justice and Medgar Evers Colleges said that the success of the shared-scooter initiative would come down to "affordability and availability."
"If they provide a viable option for commuters, then they ought to work out in the long run," Coaxum said.
Asked how she felt after taking her inaugural ride, Coaxum laughed: "I felt like a kid again."
Block President Kevin Harrell also enjoyed his ride, noting that the vehicles do not surpass 15 mph.
"[People are] going to love it," he said after his test drive. "It felt good—and you can't even get to 25 mph on it, either."
The time had come for the Eagle reporter to put down his pen and grab the handlebars.
The electric motor lacks torque to overcome the rider's inertia, so it's necessary to push forward with one foot while balancing the other on the machine. Once in motion the entire process was intuitively simple — even for someone who has never operated a skateboard, hoverboard or Segway.
The left-side handbrake is mainly for reassurance. Once you back off the thumb-operated throttle, the machine slows to a quick, decisive stop.
The high-tech hijinks attracted the attention of Restoration Plaza's head of security. He strolled over just as the Eagle reporter rolled to a reasonably stable stop.
"Can I go next?" he asked.