Come See Renowned Artist Yayoi Kusama's Rockaways Installation
'Narcissus Garden' Grows in Abandoned Fort Tilden Garage
By Lore Croghan
Queens Daily Eagle

______
Mirror, mirror on the ball.
Actually, there are 1,500 of them.
MoMA PS1 has installed a dazzling display of 1,500 mirrored stainless steel spheres in a decaying old building in the Rockaways.
The site-specific installation, done in collaboration with Rockaway Artists Alliance, is the work of renowned artist Yayoi Kusama. The venue is an abandoned train garage at Fort Tilden.
The former military base was deactivated in the 1970s and is now part of the National Park Service's Gateway National Recreation Area.
"Narcissus Garden," as the installation is called, is a new version of a work Kusama first presented at the Venice Biennale in 1966. In subsequent years, various versions of it have been installed in venues around the world, including Central Park.
The title refers to the mythical Greek character Narcissus, who fell in love with his reflection.

In the Fort Tilden garage, the mirrored globes are clustered on a concrete floor with an aisle winding through them so visitors can stand in their midst.
The spheres simultaneously reflect visitors' images and the garage's decrepit interior. It has graffiti-covered walls, broken windows and a peeling ceiling.
Kusama, who was born in 1929, continues to be active in her career. As a child, she began making art as therapy for hallucinations in which flowers talked and patterns in fabric came to life, a bio posted on a website called TheArtStory says.

Kusama was an important figure in New York City's avant-garde art scene from the late 1950s to the early 1970s. She became known for her "happenings" — performance-art events that drew lots of public attention.
In the 1970s, she returned to her native Japan to live and receive treatment for obsessive-compulsive neurosis, according to her bio on MoMA's website. To this day, she voluntarily lives, paints and sculpts in a mental hospital there.
Kusama's work was the subject of a retrospective that toured internationally and was shown in New York City at the Whitney Museum in 2012.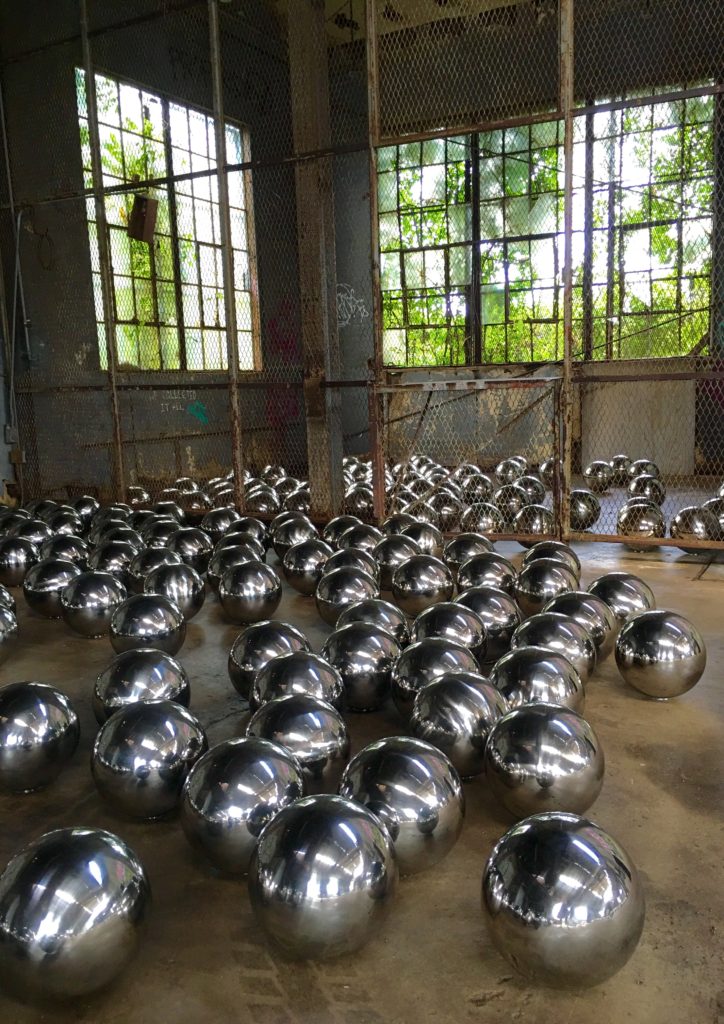 Kusama is the Star of Rockaway! 2018
"Narcissus Garden" is the latest installment of a periodic art program that started in 2014 called Rockaway! which the Museum of Modern Art's Queens outpost, MoMA PS1, organized.
The collaborators are Rockaway Artists Alliance, Jamaica Bay-Rockaway Parks Conservancy, the National Park Service and Bloomberg Philanthropies.
The free public art festival is focused in Fort Tilden.
"Six years after Hurricane Sandy ravaged the Rockaways, the vulnerable area is still fighting for rebuilding and resilience," Klaus Biesenbach, MoMA PS1's director, said in a posting on the Rockaway Artists Alliance website.
The purpose of the Rockaway! 2018 installation, Biesenbach said, is to "continue to raise awareness of the ongoing restoration work and efforts to ensure the Rockaways are prepared for future effects of climate change."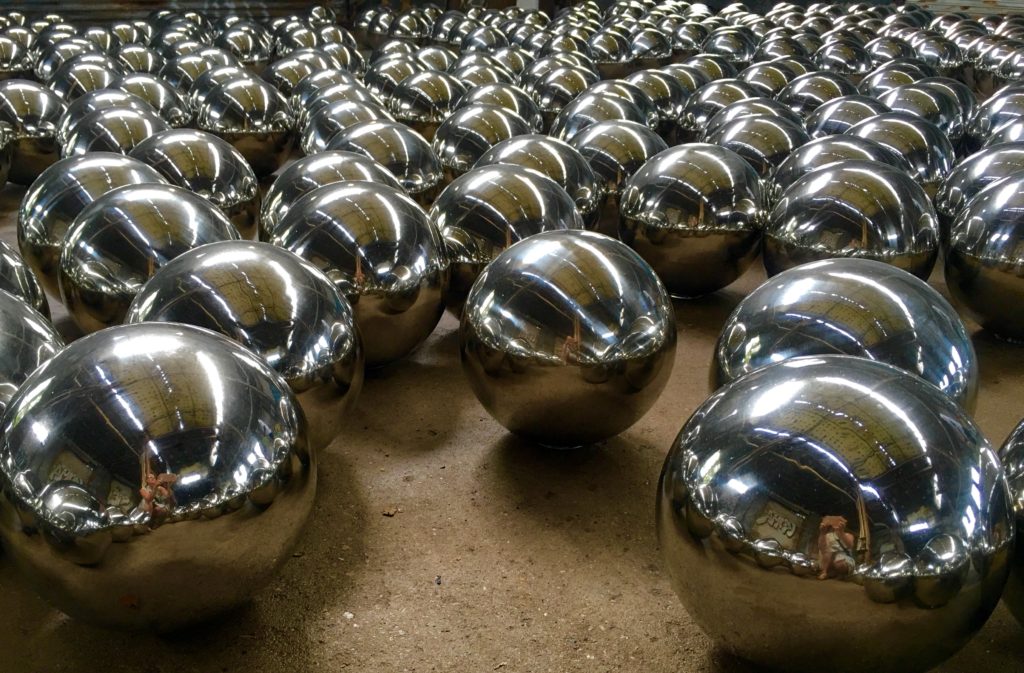 "Narcissus Garden" opened July 1 and continues through Sept. 3.
It is open on Fridays, Saturdays, Sundays and Labor Day from noon to 6 p.m.
There is no charge for admission.
Visitors must wait outdoors in an unshaded area for admission to the exhibition. There are umbrellas for them to borrow to use as sun shields while they wait.  
Fort Tilden is adjacent to Jacob Riis Park.
If you're traveling to the exhibition on the NYC Ferry or the A train, take the Q22 bus to the Beach 169th Street stop. Fort Tilden's entrance is nearby. Walk west on the main road until you find a building with a Rockaway! exhibition sign out front.