Daughter, Council Member Plead With Judge To Halt Deportation of Maspeth Taxi Driver, Father of 2
By David Brand
Queens Daily Eagle
With her father facing imminent deportation, Maspeth resident Eileen Barros joined family members, demonstrators and Council Member Francisco Moya at City Hall to demand his release Friday.
Edisson Barros, an undocumented immigrant from Ecuador, was detained inside Hudson Correctional Facility in Kearny, NJ and was scheduled to be deported Friday. The father of two lived in Queens for 25 years and worked as a taxi driver until he was arrested by U.S. Immigration and Customs Enforcement in July.
"Give me back my dad," read the sign that Eileen Barros held.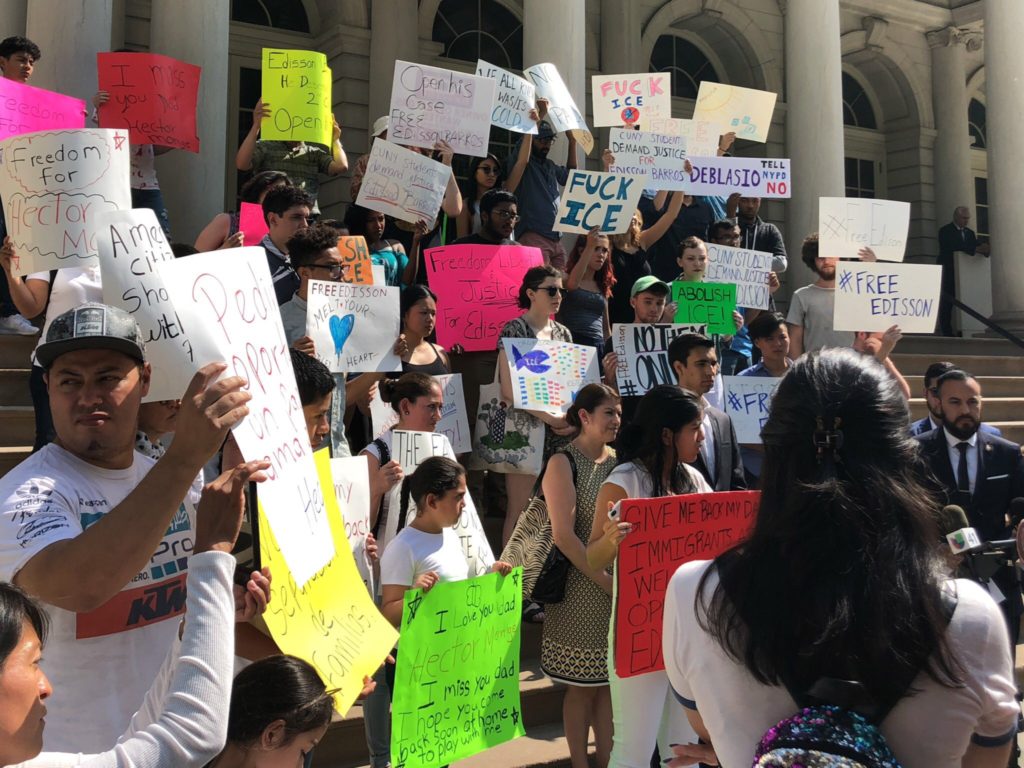 Barros was arrested after an incident in which a motorist nearly ran over his family's dog. Barros threw his keys at the driver to alert him and the driver called the police, which resulted in ICE being alerted to Barros' undocumented status.
"[Barros] is a dedicated family man, working as a taxi driver to support his family," Moya said in a letter to Immigration Judge Mirlande Tadal on Wednesday. "Mr. Barros has established himself as an upstanding member of his Queens community. When a friend, relative or stranger is in need, Mr. Barros does not balk, he lends a hand. He embodies the best attributes America values in its people."
As of press time, had yet been deported nor had Talad halted the deportation.
Moya, who is also Ecuadorian, said the deportation order is especially cruel because it violates the spirit of Ecuadorian History month, which is observed every August.
"The timing of this case triggers a cognitive dissonance for me. August is Ecuadorian Heritage month," Moya said. "Over this past weekend, thousands of people came out to Northern Boulevard — despite the heat wave — to celebrate our annual Ecuadorian Independence Day parade. It strikes me that the Ecuadorians and immigrants from across the world not only celebrate their heritage and the freedom of their home countries on their respective independence days, but also the communities they've cultivated in their adoptive nations. Those days are celebrations of perseverance and of character forged in the crucible of difficult times."
Assembly Member Ari Espinal also condemned the deportation order and demanded the release of Barros.
"I am horrified and angered by the actions taken by the federal government to try to take Edisson Barros away from his family and his home for the last 25 years," Espinal said. The federal government must stop tearing families apart."
Last month, Eileen Barros established a GoFundMe page in order to raise money so that she can continue to pay for college if her father is deported.
"My mom, sister and I are devastated and grieving his absence," Eileen Barros wrote on the fundraiser page. "I feel a huge emptiness in my heart. My dad is being ripped away from our family."
The fundraiser had generated about $3,000 as of Friday afternoon.
"I'm struggling economically and emotionally, but now I have to feed my family and bring food to the table," she said. "[College graduation is] a dream that we both shared and that I will continue fighting for. I will become the second in my family to graduate from college and I will dedicate my degree to him."