Hevesi, Golden Call for 'Culturally Competent' Safe Houses for Trafficking Survivors
Queens is the 'Apex' of the Northeast's sex trafficking network.
Queens Daily Eagle
In June, State Assembly Member Andrew Hevesi (D – Forest Hills) and State Sen. Marty Golden (R – Brooklyn) reached across the aisle to help save survivors of human trafficking.
Now they are counting on Gov. Andrew Cuomo to sign a joint bill that would establish "culturally competent" short-term and long-term safe houses for survivors of human trafficking. The bill has the support of various social service agencies who will join Hevesi and Golden on the steps of City Hall for a rally on Thursday, July 12 at 2 pm.
"The most essential need of survivors of human trafficking is a safe place to stay," Hevesi said in a statement. "Homeless shelters, domestic violence shelters, and runaway and homeless youth shelters can all help, but only if the trafficking survivor meets each shelter system's particular eligibility requirements."
Traffickers and pimps often target recent immigrants, low-income individuals with substance abuse issues and transgender women of color. A recent report by The Guardian demonstrated how traffickers also post bail for women in jail and then threaten to revoke the payment if the women do not perform sex work.
Because of these complex issues, survivors of human trafficking often require intensive case management and therapy to address the trauma they have experienced, Hevesi said.
The issue is especially important in Queens.
A 2013 report by WGBH in Boston revealed how human trafficking routes often run through Queens, the "apex" of the Northeast's trafficking network.
"There are vans that pick up women from Flushing every morning and take them out to Long Island," Jimmy Lee, the executive director of Restore, an organization that rescues victims of human trafficking, told WGBH.
Traffickers frequently force women, especially immigrants, to perform sex work in phony massage parlors in Flushing and other Queens neighborhoods.
In November 2017, sex worker Yang Song died during a sting conducted by the New York Police Department's Vice Enforcement Squad. Song told an undercover cop who entered the Flushing apartment where she worked that she would have sex with him in exchange for $80. She fell to her death shortly after additional police officers arrived at her door.
Song was just three days away from completing a five-session counseling program mandated by the Queens Human Trafficking Intervention Court following a September 2017 prostitution arrest. She did not connect with a safe house.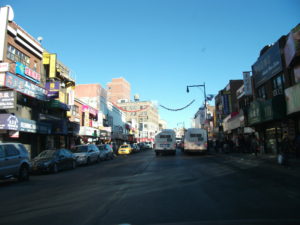 In May, Federal agents extradited four men from Mexico after a Homeland Security investigation revealed that the men had allegedly trafficked dozens of women and girls into Corona over a 16-year period. Prosecutors say the alleged traffickers forced the women to have sex with up to 40 men a day and transported them to Long Island, Upstate New York and other states. Authorities sought to extradite four other men back to the US to face 23 counts of sex trafficking.
In a 2014 interview with DNAinfo, State Sen. Jose Peralta (D – Jackson Heights)  called on the City and State to do more to protect women trafficked by gangs, especially in Corona.
"Roosevelt Avenue is a mecca of human trafficking in Queens and throughout the five boroughs," Peralta said. "[Gangs] are participating in bringing women from all over the world."