Holden Threatens Fate of Out-of-State Plates
Out-of-state plates have Council Member Bob Holden (D-Middle Village) in a state of anger.
Vehicles with plates from Pennsylvania, North Carolina, Florida and 46 other states are clogging the limited parking spaces in Queens neighborhoods and depriving New York of vehicle registration fees, Holden said. In June, he introduced two City Council bills to study the issue and request that State lawmakers take action to punish registration rule-breakers.
"Out-of-state licensing issues cause everything from parking headaches to the loss of state revenue," Holden said in a statement. "We need to address these problems, and cracking down on out-of-state license plates is key."
Holden seems to have a point about the number of out-of-state plates present throughout Queens.
At least 32 vehicles featured out-of-state license plates along a meandering route through Ridgewood and Maspeth residential streets — Holden's home turf — during morning rush-hour Friday. There was also one out-of-country plate: the Canadian province of Manitoba on a street near Metropolitan Ave.
Though some cars likely represent New York City's 62.8 million annual tourists, two were parked in driveways, including one with Vermont plates and another with Pennsylvania tags.
According to a 2017 Crain's report, New York residents who drive cars registered out of state accrue $73 million in unpaid parking tickets and deprive the state of $1 million annually in license plate revenue, titles, and vehicle registration fees. The report also indicates that the State misses out on $93 million in sales tax revenue and that out-of-state vehicles cost insurers $19 million in under-priced premiums each year.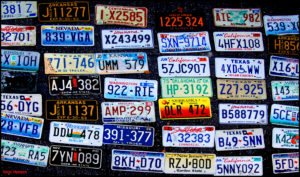 Vehicle-owners often favor registering out-of-state because insurance premiums are lower.
Indeed, the The New York Times highlighted the same issue back in 2003, reporting that "the illegally registered car has [been] a fixture on New York streets for decades, as drivers go to great lengths — literally — to avoid fees, taxes and some of the nation's highest insurance premiums."
Holden's first bill would establish a task force that includes city and state agencies to determine the best way to encourage or compel vehicle owners who register out-of-state to register in New York. The proposed task force would submit a report to the Mayor and City Council.
The second bill calls on the New York State legislature to pass and Gov. Andrew Cuomo to sign a law increasing penalties for New York residents who register their vehicles in another state.
According to the the Department of Motor Vehicles, drivers who move to or reside in New York State have 30 days to register their car in New York. New York residents who purchase a car from another state also have 30 days to register in New York.
But those laws are frequently ignored by residents and infrequently enforced by the State.
"We need to enforce the 30-day registration requirement," Holden said. "[And] we need to increase penalties for out-of-state registration fraud to deter individuals from skirting the laws."