'It's Like a Miracle' — The Wild Boars Captivated Queens' Thai Community
The heroic mission to save the Wild Boars captivated the entire world.
And in Woodside, Elmhurst and elsewhere in Queens, the improbable rescue effort took on special significance as the borough's Thai community closely monitored news of the rescue and rejoiced when the final group of boys emerged from the flooded cave early Tuesday.
"We are very happy that the boys are saved. It's amazing. It's like a miracle." said Tang Tanroncvhotanakan, who works at 3 Aunties Thai Market in Woodside. "We followed the news every day and we prayed for them every day."
Against all odds, twelve boys and their soccer coach survived with limited oxygen inside a flooded cave in Thailand. Courageous rescue teams worked round-the-clock to plan their mission, which mission entailed 12-hour swims through a treacherous, miles-long underwater labyrinth to save all 13 members of the soccer team.
On Monday afternoon, hours before the rescue mission ended, Nu Kumprakool said he and others from Thai community checked social media and news outlets for updates.
"Everybody knows and keeps an eye on this with social media. It's on the news everywhere," said Numprakool, secretary at the Thai Cultural Center in Sunnyside. "[But] we cannot do anything except pray."
Queens is home to the highest population of Thai immigrants and people of Thai descent in New York City. In 2012, the Asian American Federation reported that the New York City Thai population reached 7,244, up from about 5,000 in 2000. Queens accounted for 57 percent of the overall Thai population.
The Thai community is most dense in sections of Woodside and Elmhurst between Roosevelt Avenue and Queens Boulevard where Thai restaurants and markets line the streets.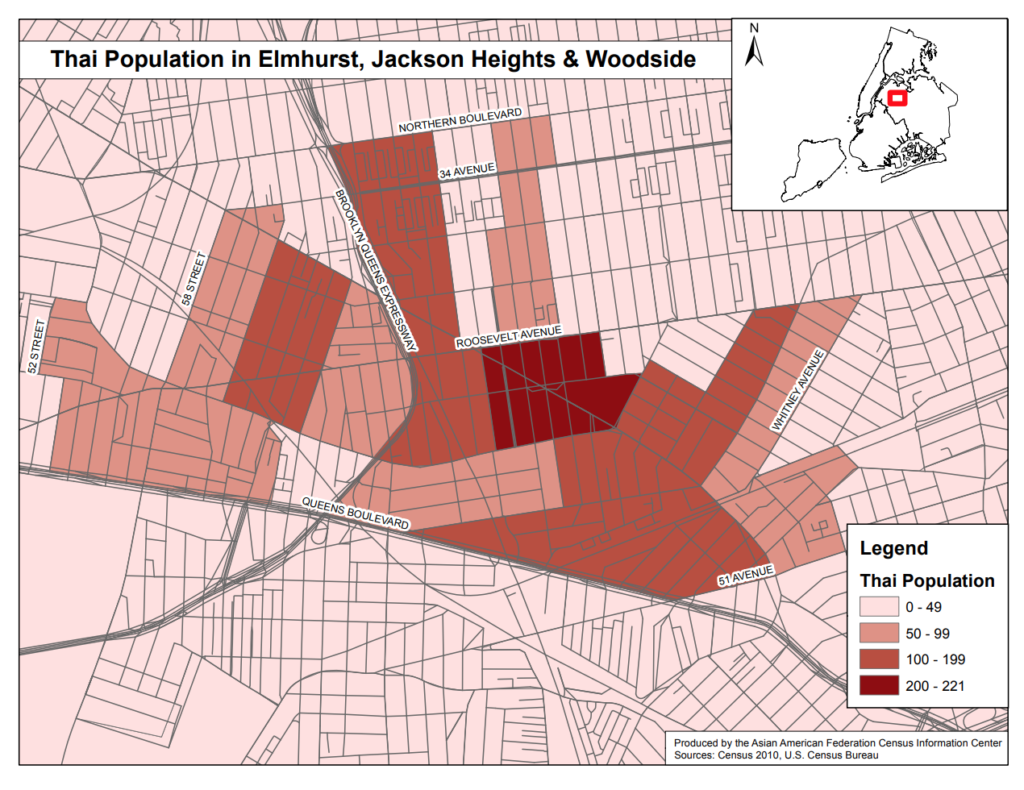 Juttana Rimreartwate, an activist in Jackson Heights, said the mission embodied the spirit of teamwork and sacrifice.  Rimreartwate organizes New York City's annual Songkram Day celebration, a Thai New Year's holiday that takes place in mid-April.
Even those who were not trained to dive and participate in rescue mission still found important ways to help, Rimreartwate said.
"People used their human resources, the [notion] that you are part of all of this together," he said. "If you cook food, then volunteer and cook the food over there. If you can clean toilets, go over there and clean toilets."
"Sometimes you don't think you are important, but you are important," he continued. "And they send a message to everyone in the world."
The mission resulted in the death of Thai Navy SEAL Saman Gunan, who ran out of oxygen while placing spare oxygen for the children to use along the route to safety. Gunan is remembered as a hero for his work freeing the Wild Boars.
"Dear Saman Gunan, do you hear the crowd cheering? Do you hear that all Wild Boars are out? Do you hear that your rescue team members are about to be out too? Do you hear all that?," NY Stan, a New York City resident, wrote on Twitter. "If you see it all, I know you're be smiling. Thank you for your sacrifice."
In the end, the Thai navy Seals took to Facebook to celebrate the achievement.
"We are not sure if this is a miracle, a science, or what," the Thai navy SEALs posted on Facebook "All the 13 Wild Boars are now out of the cave."