Moya's Ferry Bill Would Open Access to Willets Point
Mets ads have long encouraged visitors to "take the train to the game," but if Council Member Francisco Moya (D-Corona) has his way, fans can also start catching the ferry to the field.
Moya co-sponsored a bill that would extend ferry service to Citi Field and Throggs Neck in the Bronx. Council Members Ruben Diaz Sr. (D-Bronx) and Mark Gjonaj (D-Bronx) are the bill's other sponsors.
In addition to making baseball games and other Citi Field events more accessible, ferry service to and from Willets Point would make the city "more equitable," Moya said in a statement.
"Just because you don't live next to a train station, or can't afford to, doesn't mean you should be cut off from public transportation," Moya said in a statement. "Extending the NYC Ferry service to Citi Field Park will give Queens residents more travel options, expand their radius for employment, medical care, education and leisure."
Willets Points protrudes into Flushing Bay and Flushing Creek like a thumb and ferry service to the peninsula could provide an alternative to the crowded subway system for residents of Northern Queens.
The city's ferry system currently shuttles commuters to and from four Queens docks located at Hunters Point South, Long Island City, Astoria and Rockaway. There are eight stops in Brooklyn between Bay Ridge and Greenpoint and four ports in Manhattan between 34th Street and Wall Street. Later this summer, a new ferry line will head north to Manhattan's East 90th Street and the Bronx neighborhood of Soundview.
A ferry ride costs $2.75, the same as a subway trip. In May, Mayor Bill de Blasio announced that the city would commit $300 million to fund the ferry system expansion and to continue subsidizing trips. East River ferry rides used to cost $6 per trip.
On Friday, the New York City Economic Development Corporation unveiled a new 350-passenger boat, demonstrating the city's commitment to water vessels as the next frontier in public transportation.
For years, Willets Point was a warren of auto shops with very few — perhaps even just one — residential building and no sewer system. In 2014, 45 of the mechanics agreed to move to the Bronx, thus clearing much of the area for a massive redevelopment project.
The city's Willets Point Redevelopment plan, first initiated in 2009 is billed by the New York City Economic Development Corporation as "a major engine for economic growth for New York City." According to the project summary, the plan will "generate local employment and business opportunities, and improve the overall quality of life for local residents."
The plan does not include reference to ferry service but was developed before the city began emphasizing — and funding — water travel as a vital feature of the transportation network.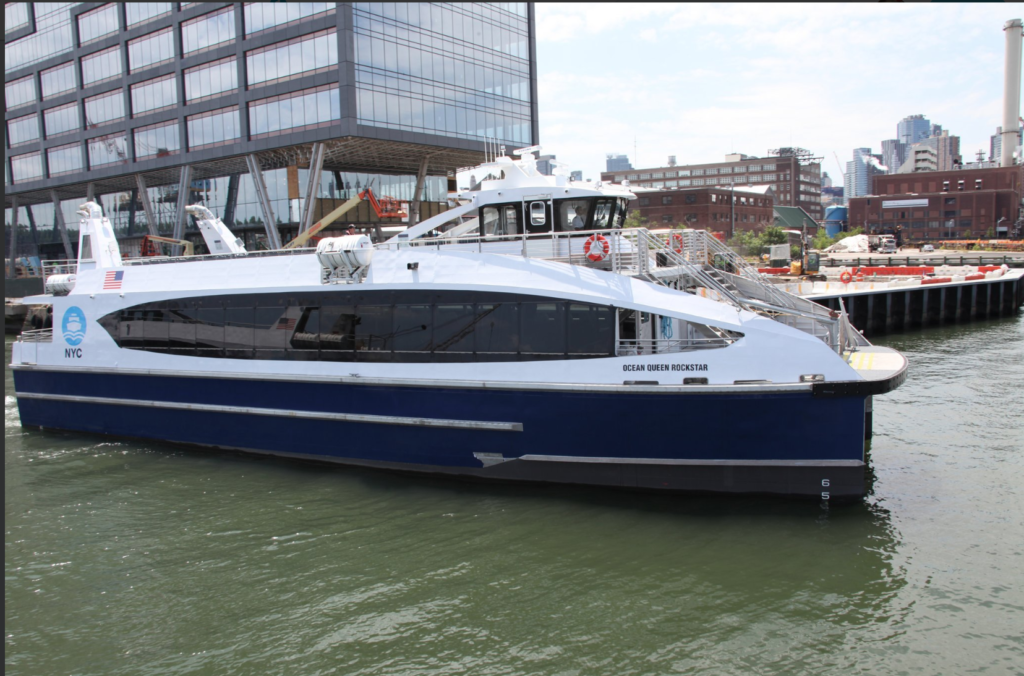 Greater Flushing Chamber of Commerce Executive Director John Choe said his organization proposes a ferry stop in Flushing Creek, which divides Willets Point from densely populated Downtown Flushing.
Choe said the World's Fair Marina, which is located along the Flushing Promenade and is separated from the rest of Willets Point by the Whitestone Expressway, could be another "fine site," though he said it might not meet the NYCEDC's requirement that ferry docks be located in densely populated transit hubs.
"The existing transit system is over-capacity and ferry service would really be a boon to the population and for the small businesses in Downtown Flushing," Choe told the Queens Daily Eagle, adding that ferries would also help open Flushing's cultural centers, including Michelin-star restaurants and Flushing Town Hall theater, to more tourists.
Identifying a specific location would likely require extensive feasibility studies, said Alexandra Rosa, executive vice president at Flushing Willets Point Corona Local Development Corporation.
Nevertheless, the organization is "supportive of any plan that brings more ferry service to this part of Queens," Rosa told the Queens Daily Eagle.
"We see ferry service as a valuable option that would bring much needed relief to transit riders in this section of queens," Rosa said. "We look forward to working with our elected officials to find a proper site for the landing that would benefit the most riders."
The ferry would relieve crowding on the 7 train, which begins at Flushing-Main Street, one stop after the Mets-Willets Point station. The ferry would also enable commuters to avoid taking the Long Island Railroad, which costs $8.75 for a one-way ticket between Willets Point and Penn Station during peak hours.
"The number 7 line is the most crowded subway line in the city and the LIRR fares are unaffordable to many people," Rosa said. "This would relieve pressure from the 7 train all the way into Manhattan."