Ozone Park Residents Square Off With DHS Over Shelter Site
By Andy Katz
A public hearing on a proposed homeless shelter in Ozone Park attracted hundreds of residents eager to confront the Department of Homeless Services Wednesday.
DHS officials defended their proposal to turn a former church into a shelter for homeless men with mental illness Wednesday, but angry outbursts from residents and local lawmakers punctuated the evening.
"I don't want them here," said a senior citizen who declined to give his name. "Homeless? I don't trust them."
The crowd filled the auditorium of Nativity of the Blessed Virgin Mary church to confront DHS First Deputy Commissioner Jackie Bray and other officials over the proposal  to convert the former Christ Evangelical Lutheran Church, on 101st Avenue and 86th Street into a homeless shelter that will serve 113 homeless men with mental illness.
Council Member Eric Ulrich and other attendees said they criticized the agency's lack of transparency. Ulrich said the agency did not engage the community before announcing the proposal.
"If you had just come to us we would have proposed a shelter for battered women, or veterans in need. Residents would volunteer in those," Ulrich said. "We want to be part of the solution."
Ozone Park Residents Block Association President Sam Esposito, who has organized much of the shelter resistance via social media said he disagreed with the project. He did not offer alternatives, however.
"We did not go to the politicians," Esposito said. "We didn't go to the city. This is our community. We just want what is best."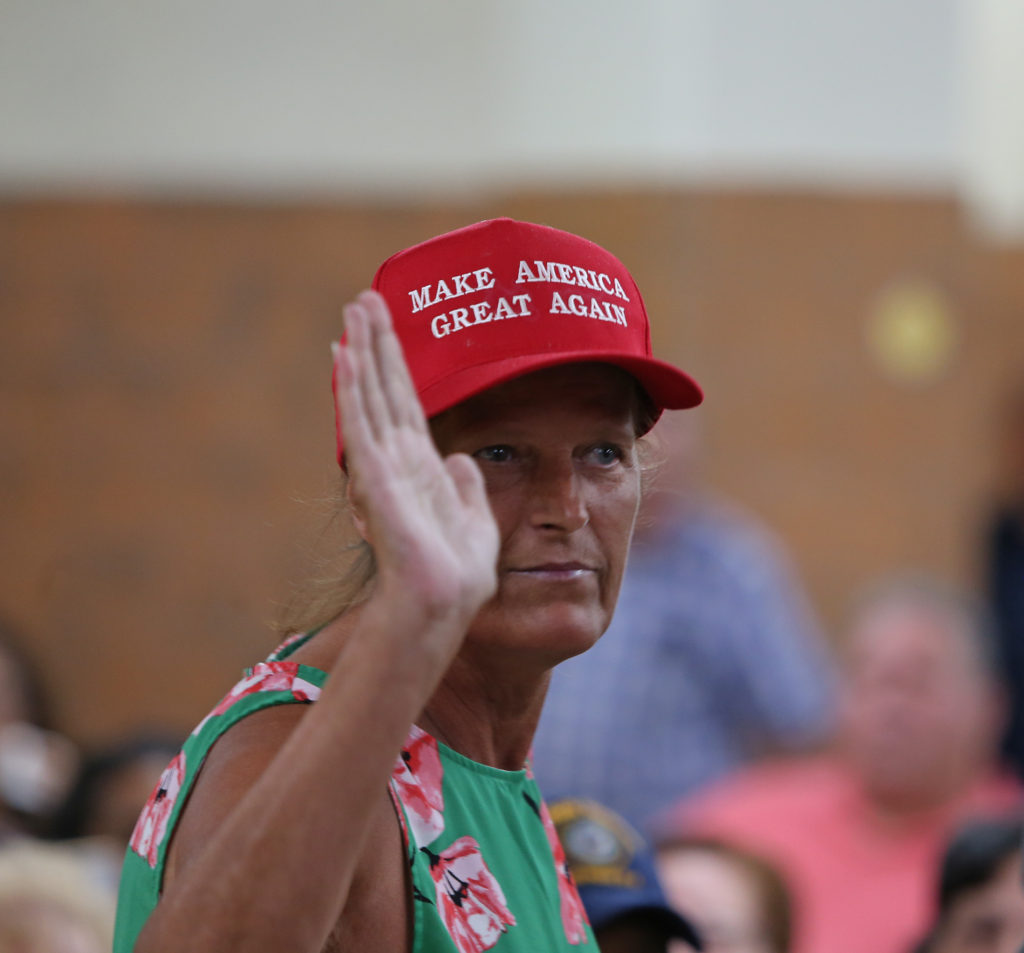 Later, Esposito told the Eagle that his organization planned to sue the city with the help of attorney Chris Murray.
"There's an arrogance on the part of the city," Murray told the Eagle. "The way they put this together, without seeking guidance from the community [and] really, they don't seem to have followed the law, either."
New York City is mired in a historic homelessness crisis and has struggled to decrease the number of adults and children stuck inside the sprawling shelter system.
On Monday night, 58,958 stayed in a city shelter according to the most recent daily census issued by DHS. In December 2017, DHS issued a report stating that Community District 9 accounted for 206 homeless people. Of all Queens' Community Districts, District 12 accounted for the most people experiencing homelessness with 1538, while District 11 accounted for the least, with 19.
In June, DHS sent a letter to State Sen. Joseph Addabbo acknowledging the community's opposition to a shelter for men with mental illness near a school and advising him that the community had until Aug. 5 to propose alternative locations for the shelter.
Addabbo told the Eagle that the city has not outlined how it intends to support the shelter residents and did not adequately engage the community before announcing the shelter plan. Addabbo said he and other community members would continue to explore alternative sites for the shelter before the August 5 deadline.
"I am hopeful that by working together as a community, we can find a suitable replacement site for these individuals," Addabbo said. "We'll scour Community Board 9 boundaries and see if there's anything else out there [because] the mayor's office did it and we don't like their selection."
Church Pastor Paul Palmiotto also said he questioned DHS's decision-making.
"Our church has no official position about the shelter," said Pastor Paul Palmiotto. "As Christians we're supposed to reach out and help our less fortunate fellows. But we really have no idea what the DHS is planning—will the center be residential, or just provide daycare and support."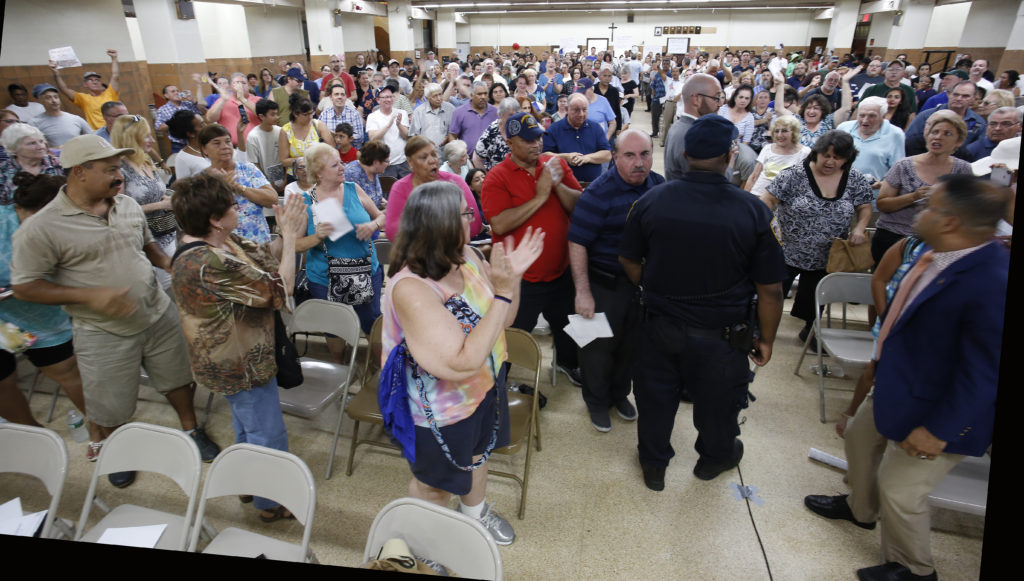 Some attendees, like Robinson Perez, arrived with more open minds.
"I just want to find out what they're going to do," Perez said. "At this point, they have told us very little."
During the event, Bray informed the crowd that the city would staff the shelter with several DHS police officers — unarmed security guards under supervision by the NYPD — especially during school hours.
"We plan to ensure our staff will be outside, on the street when school starts and when it ends," Bray said.
Bray's statement was met with a ripple of derisive comments and booing. Retired principal Joel Conselyea responded that "the children aren't being put first.
Several speakers condemned the Mayor, under whom homelessness has skyrocketed. Few, however, provided alternative proposals for how to manage the homeless crisis.
"If you were homeless," said Joe Caruana of Our Neighbors Ozone Park. "Would you really want to have to live among the mentally ill?"
Last week, the Eagle spoke with Charmel Lucas about that very issue. Lucas experiences homelessness, resides in a Manhattan shelter and works for Picture the the Homeless.
She said she understands the response from community members, but she wants to see that not-in-my-backyard energy channeled into a push for more affordable housing.  
"At the end of the day, homeless people don't want to see shelters built, we want to see extremely low-income housing built," Lucas said. "It's ridiculous to build shelters when people just really need a place to live."
"In terms of the community being upset, I get it," she continued. "The city is sitting on major property and warehousing it instead of turning into affordable housing."