Port Authority Dictates $10B JFK Overhaul Plan At St. Albans Meeting
At a public meeting in St. Albans Wednesday night, officials from the Port Authority of New York and New Jersey discussed the $10 billion plan to overhaul John F. Kennedy Airport and pledged to involve Southeast Queens residents in every phase of development.
"We're going to be your partner. That's our commitment," said Port Authority Community Relations chief Justin Bernbach. "We want people to talk about the JFK redevelopment for years to come about how we worked with the community."
Port Authority officials answered questions, which attendees submitted on notecards, related to economic opportunities and the requirement that at least 30 percent of project contracts go to minority and women-owned business enterprises. More than 96 percent of St. Albans residents are people of color, according to the U.S. Census Bureau's 2016 American Community Survey.
Despite the Port Authority's stated commitment to engage the community in the development process, the lack of direct interaction with attendees and the screening of questions by the panel moderator irritated several people in the audience, including Jamaica attorney Donald Vernon. Vernon interrupted the panel, grabbed a microphone and condemned what he said was a lack of direct interaction.
"We are not being given an opportunity to even speak," Vernon said. "These great people on the panel will leave here without understanding what this community believes, what it wants and how they should proceed with this project."
"They're going to do what they want," another audience member responded.
After a few minutes, State Assembly Member Alicia Hyndman restored order and the panelists continued answering questions from the notecards.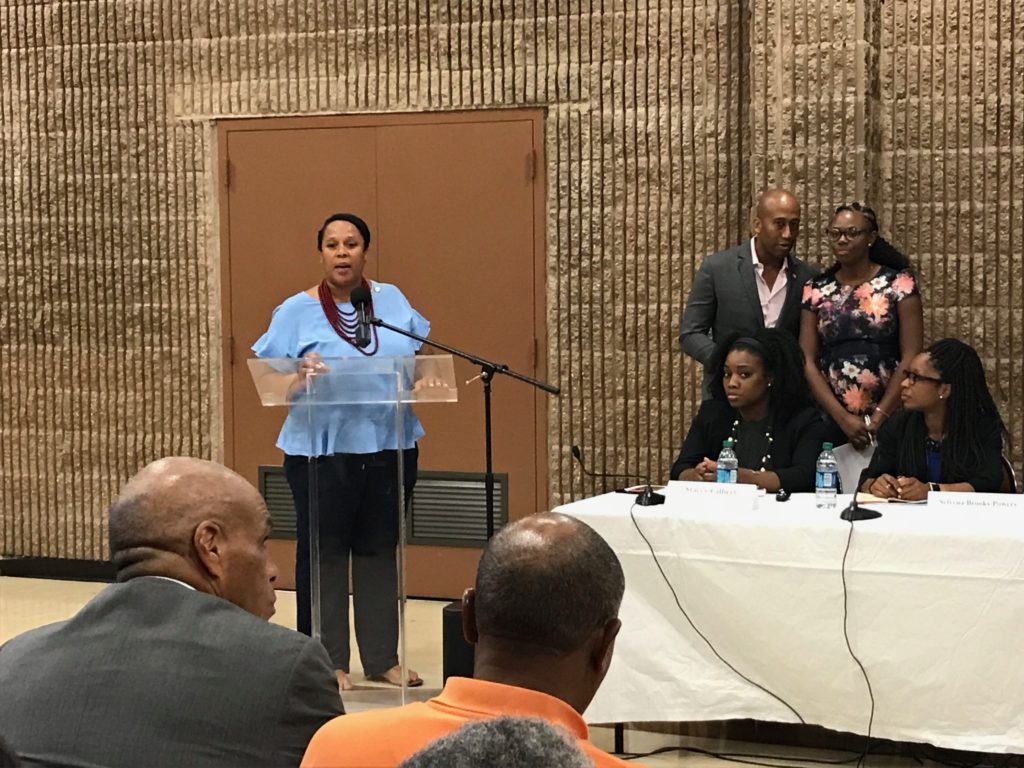 The massive project, initiated by a $1 billion capital commitment from the Port Authority, will have a significant impact on residents of St. Albans, the Rockaway peninsula and other neighborhoods near the airport, but community members said the presentation remained light on details.
"It was a good introduction for people who aren't familiar with the project," said Barbara Brown, the chair of the New York Community Aviation Roundtable's JFK Committee and the Eastern Queens Alliance.
Brown said the panel did not sufficiently address the project's environmental impact.
"My question is, what strategies have they put in place to respond to stakeholders who live under the flight paths and around the airport?," Brown told the Queens Daily Eagle. "Most of what they talked about were economic and issues and not the strategies in place for the people under the harm and risk noise pollution, poor air quality, health problems and a range of environmental concerns."
The presentation was divided into two goals — maximizing economic opportunities and mitigating environmental impact. Though one speaker mentioned a modest project to introduce electric vehicles in the JetBlue terminal, most of the presentation focused on contract opportunities for local construction, legal and design firms that certify for MWBE status.
"[The goals] were equal on screen, but they did not devote any time to the environment and that's a critical piece," Brown said. "Noise pollution and air pollution impact people's health."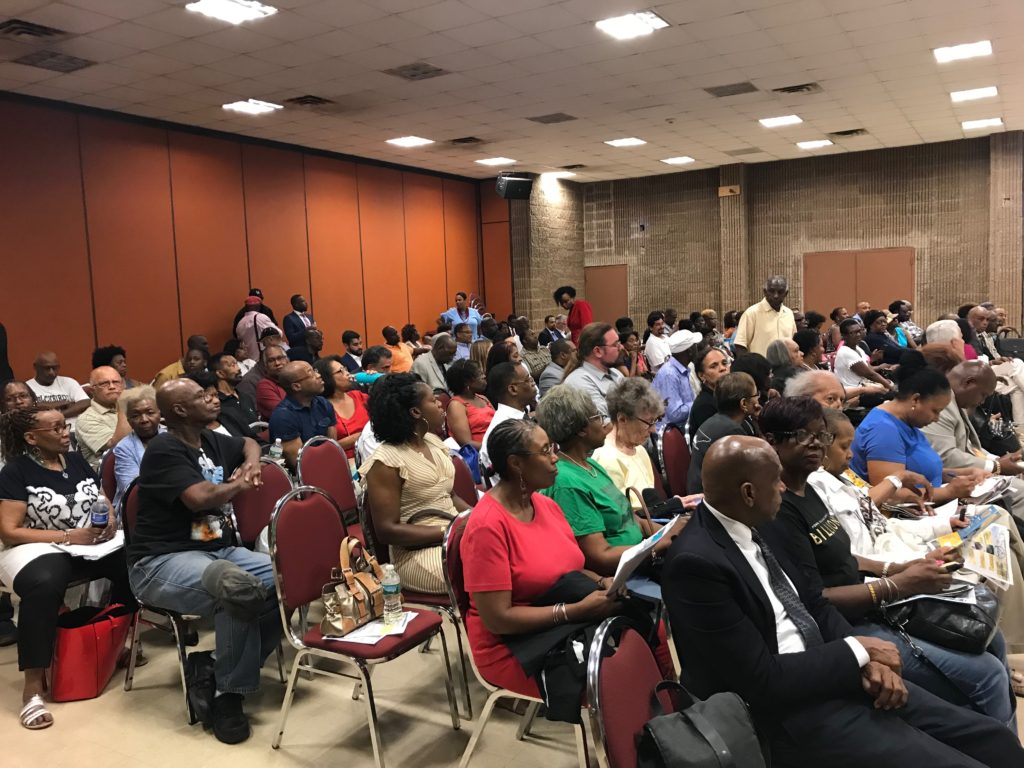 For decades, New York City residents and leaders have advocated for changes to make JFK more modern. Gov. Andrew Cuomo first announced the massive JFK redevelopment plan during an ambitious speech in January 2017.
"New York never backs down from a challenge, rather we step up to take on the ambitious projects that are often thought to be impossible. That's exactly what transforming JFK International Airport is all about," Cuomo said. "Our vision plan calls for the creation of a unified, interconnected airport that changes the passenger experience and makes the airport much easier to access and navigate."
The renovation will address three core issues, according to the state's vision plan: connecting all the airport's terminals, improving car access to the airport and easing rail access to keep up with projected passenger growth.
In 2016, JFK served 60 million travelers, according to the Port Authority. The number of travelers is expected to increase to 75 million by 2030 and 100 million travelers by 2050, the state estimates.
But those millions of visitors are forced to navigate a labyrinthine web of terminals that have fallen into disrepair. Project Director JIm Steven acknowledged that JFK does not even rank in the top 50 of international airports by the airport rating company Skytrax. Indeed, JFK ranked 69 in the 2018 Skytrax rankings.
"The roadways are confusing at best. The terminals are rundown [and] that is not deserving a city as great as New York anda community as great as Southeast Queens," Steven said. ""This is a program consisting of multiple projects that are going to go on for a long, long time — 10, 15, 20 years."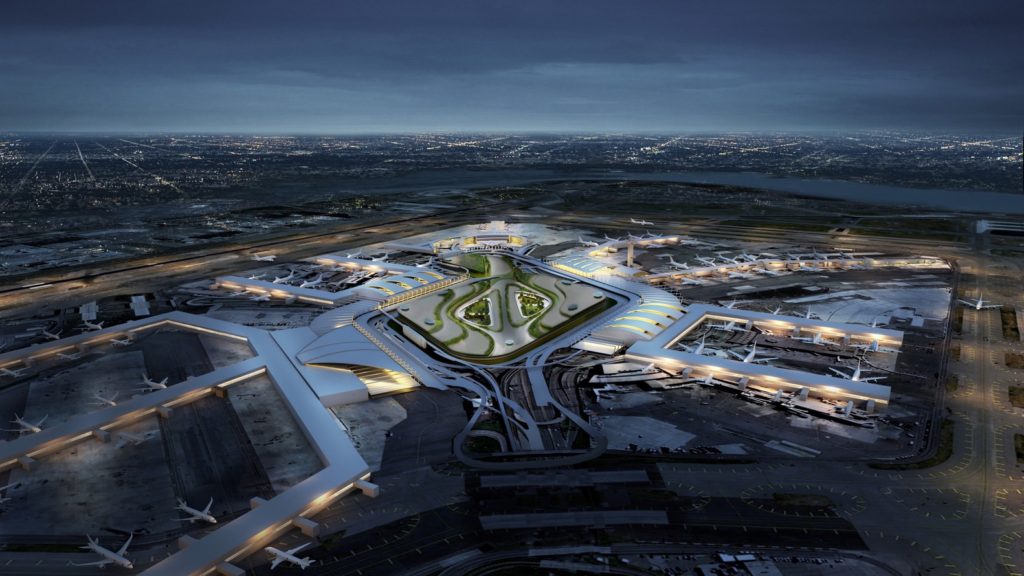 Sandra Long, a member of the Southeast Queens Alliance, said the years-long project will "dramatically change the neighborhood from residential to commercial" and said she would like the Port Authority to involve the community more than just during one-off forums.
"They're trying to dictate to us and to figure us out," Long said. "We've been through this before."  
State Assembly Member Clyde Vanel encouraged attendees to hold the Port Authority accountable to its community engagement pledge.
"We are an airport community," said Assembly Member Clyde Vanel. "We have to make sure that the community is part of every aspect of the project."