Queens' Economy Is Booming, But Not For Everybody
The borough's unemployment rate is 3%, but 14.6% of Queens residents live below the poverty line.
"The Queens economy is booming."
That's how New York State Comptroller Tom DiNapoli assessed the borough's fiscal growth in a May report detailing the state of Queens.
"The Queens economy [set] employment records in each of the past six years," DiNapoli said in a statement. "Immigrants, who make up nearly half of the population, are an important part of the borough's success."
Indeed, Queens has the lowest unemployment rate of all New York City boroughs and development is surging — look no further than Long Island City's brand new glass skyline.
But not everyone shares in the borough's overall economic success. In addition to the 3 percent of people without jobs, hundreds of thousands of Queens residents struggle to earn enough to keep up with the borough's high cost of living.
"While, by some measures, the Queen's economy is performing well, it's important to recognize that too many working families of color and immigrants are still struggling," Julissa Bisono, Lead Organizer at Make the Road NY told the Queens Daily Eagle. "Many members of our communities have to work two jobs to provide for their families and pay their rent at the beginning of each month.
"Worse yet, many had to move out of the neighborhood because they can no longer afford the rent hikes," Bisono continued. "We are committed to working as hard as ever to organize our members to fight for affordable housing and their rights as workers."
Rep. Joseph Crowley (D-Queens, Bronx), the chairman of the House Democrats, also recognized the disparities evident throughout the borough.
"Our borough's economy has rebounded from the Great Recession, and we have hit record-breaking numbers in job creation. This is good news for the hard-working men and women who live in our borough. Still, far too many Queens families have been excluded from this recovery," Crowley said. "I am incredibly thankful for the millions of new business owners and immigrant families who now call Queens home, but I recognize that their economic needs are not being met."
The Queens County unemployment rate dipped to 3 percent in May, down from 3.5 percent in April, according to the State Department of Labor's most recent report. During the peak of the Recession in 2010, the County's jobless rate was at 8.6 percent.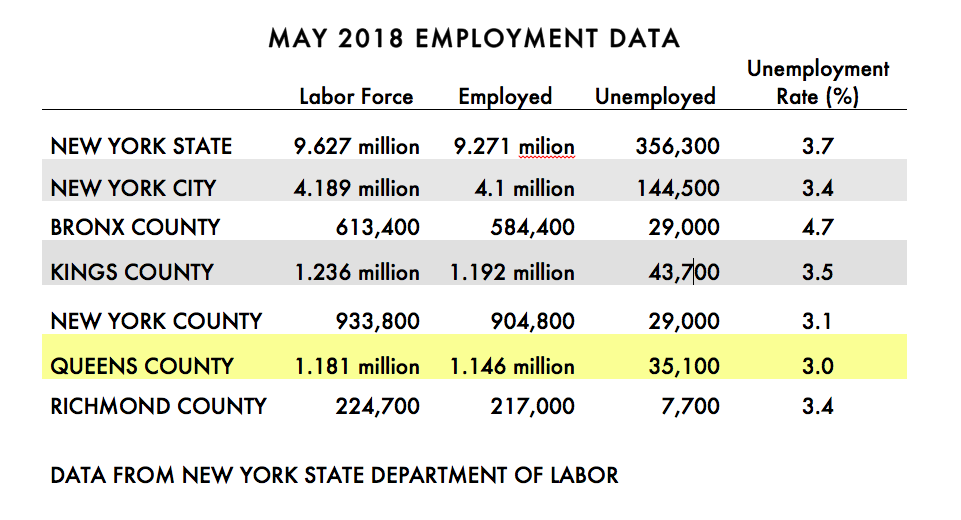 In New York State overall, the May unemployment rate was at 3.7 percent and in New York City, the unemployment rate dipped to 3.4 percent.
The Bronx had the highest unemployment rate at 4.7 percent.  
In June, the unemployment rate in the US rose from 3.8 percent to 4 percent, according to a monthly report by the Office of Labor and Statistics. As of press time, New York State had not released its monthly report for June.
But many of the new jobs in Queens, even ones that pay more than the minimum wage of $13 per hour at companies employing 11 or more people, still do not pay enough to keep up with the region's skyrocketing cost of living.
A 2015 report by the apartment-hunting website StreetEasy determined that New Yorkers have to earn at least $38.80 an hour to afford the city's median rent of $2,690. In Queens, StreetEasy found that a person who foots the entire average rent bill would have to earn at least $29.67 an hour — more than double the current minimum wage.
For a person who gets paid $29.67 per hour for a standard 35-hour work week — seven hours a day plus one unpaid hour for lunch, a rarity in New York City — his or her annual salary would amount to slightly less than $54,000.
That salary is not too shabby in many parts of the country, but in the New York City metropolitan area, $54,000 does not even come close to a middle class income.
The 2018 Area Median Income (AMI) for a one-person household is $73,100, according to the New York City's Housing and Preservation Development agency. AMI includes median incomes from Rockland, Westchester and Putnam Counties in addition to the five boroughs. That metric is crucial because governments and developers use percentages of AMI to set affordable rent rates.
Queens' 3 percent unemployment rate also belies the U.S. Census Bureau's most recent report on county poverty. In 2016, roughly 14.6 percent of Queens residents lived below the poverty line, a measure pegged at an unfathomably low $12,140 per year for individuals this year.
The federal poverty line has not been updated, except for adding tiny annual cost of living increases, since it was established in the 1960s.
In 2012, the Robin Hood Foundation, which studies poverty and offers strategies to uplift low-income New Yorkers, partnered with Columbia University to establish what the organization considers a more accurate assessment of poverty. They base their assessment on quarterly check-ins with cohort of 2,300 New Yorkers.
This year, the Robin Hood Foundation determined that 53 percent of Queens residents have experienced poverty for at least three consecutive months since 2012.