Queens Ignored As Mayor Discusses L Train Shutdown
Brooklynites get the media coverage and Manhattanites take the MTA to court, but Queens residents also face uncertainty.
By David Brand
The L train shutdown is approaching faster than a late-to-work commuter sprinting toward a closing subway door. By now, most New Yorkers — including Mayor Bill de Blasio — seem to recognize the impact the massive repair project will have on residents of Brooklyn and Manhattan.
"This is truly on the minds of Brooklynites," de Blasio said at a press conference Wednesday. "I have talked to a lot of Brooklynites and obviously a lot of Manhattanites as well about what this is going to mean for them, and people are really focused. They're really nervous . . . I'm here today to say, we got you."
But Queens residents say they question that support. The borough, they say, has received little attention.
"Only part of the story is told, focusing solely on the impact in Brooklyn and Manhattan," Access Queens founder Melissa Orlando wrote on the organization's website in December 2017. "The addition of thousands of riders to overcrowded lines such as the 7 and the E trains is a disaster waiting to happen."
For about a mile, the L train tracks straddle the Brooklyn-Queens border. At Myrtle-Wyckoff and Halsey Street stops, for example, the line's Manhattan-bound entrances are actually located in Queens. A bit further west, Brooklyn ends and Queens begins along Cypress Ave., just two blocks from the Jefferson Ave. and DeKalb Ave. L train stops.
Thus, commuters from Ridgewood, Glendale, Middle Village and Maspeth depend on the L to get to and from Manhattan.
"The shutdown is going to suck," said Gwen Dick, a Ridgewood resident who manages a children's clothing store in Manhattan. "They are talking about shuttle buses, but the shuttle buses are constantly stopping."
In June, the City announced it would add more Citi Bike docking stations to regions along the L and build a protected a bike lane along Delancey Street. In a statement, the city said it was "working closely with local elected officials, community groups as well as the affected community boards – Brooklyn Community Board 1 and Manhattan Community Boards 2, 3, 4, 5 and 6."
The city did not include information about Queens Community Boards affected by the shutdown, including CB5 in Ridgewood.
On Tuesday, the city introduced 200 new electric Citi Bikes designed to power commuters over the Williamsburg Bridge. As the L-Train shutdown approaches, the city said it plans to roll out 1,000 new eBikes.
U.S. Rep. Nydia Velázquez, who represents parts of Brooklyn and Queens, said the city must consider "a variety of alternative transit methods in order to minimize disruptions for New York's working families."
While bikes may serve as an important complement to mass transit, they will fill a tiny sliver of the transportation gap. The city estimates that about 21,000 people will turn to cycling once the L shuts down — less than 10 percent of the 275,000 riders who cross the East River on the L each day.
Dick, for her part, does not plan to join the peloton.
"Who's going to ride a Citi Bike?" Dick asked. "Maybe some people, but not everyone."
The L has become synonymous with Brooklyn and the impact on the hipster hordes of Williamsburg and Bushwick have dominated media coverage, but Manhattan has also garnered significant attention. In April, a coalition of Manhattan residents and businesses sued the MTA to stop the shutdown, alleging the city did not conduct an environmental review.  
"I have never seen such unanimity in opposition to a project around here," Arthur Schwartz, a labor lawyer who leads the coalition, told Curbed. "People are concerned about having traffic jams in front of their homes 24 hours a day and the resulting air and noise pollution."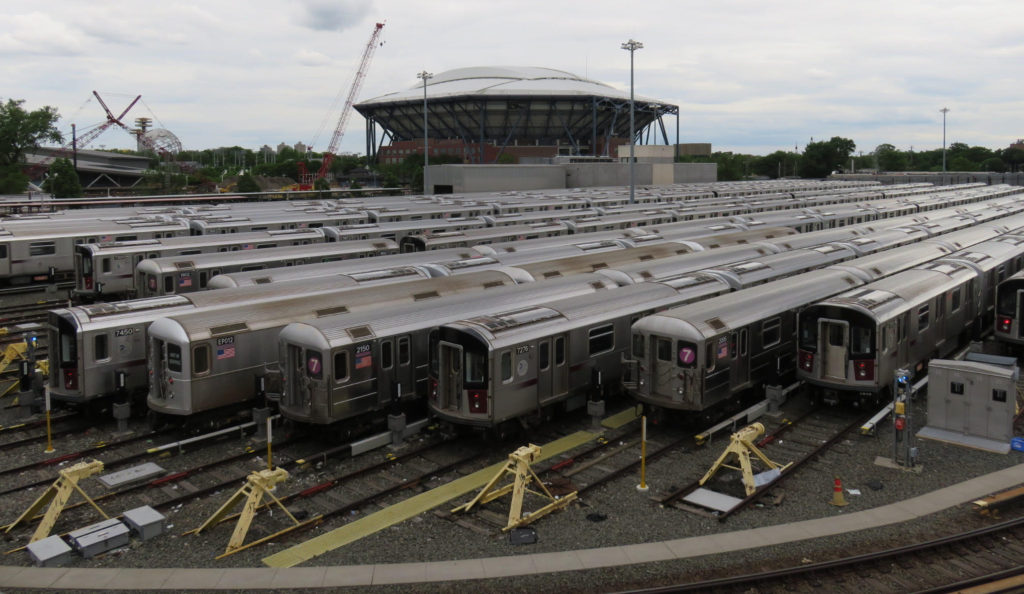 In addition to individuals and businesses who live along the L, the shutdown will complicate life  for commuters miles away — especially Queens residents traveling along 7 Train to Court Square.
Roughly 80 percent of L-train commuters are expected to take G train from Lorimer Street to Court Square to connect with the 7, M or E into Manhattan.
"Take a subway from another part of Brooklyn or Queens, if [you're] coming from Queens," MTA Commissioner Polly Trottenberg said at the press conference Tuesday.
In March, MTA officials visited Community Board 2 in Long Island City to discuss the impact on congestion in Court Square which, according to MTA data, had an average of 23,317 passengers per day in 2016.
"We know there's going to be big transfer movement," said Judy McClain, the MTA's senior director of service planning in a story first reported by Vice. "We know that if you go out there today, it's congested."
McClain said the MTA will widen existing staircases and construct two more to accommodate the thousands of additional passengers. But Jeremy Rosenberg, a member of CB2's transportation committee, remained skeptical.
"I live in Long Island City, and my closest station is [Vernon Boulevard-Jackson Avenue]. Sometimes it takes four or five trains passing just to get on, during a snow day, for example," Rosenberg said. "So I'm curious: how many more times do you expect we'll have to wait once tens of thousands of people from Brooklyn start joining?"
Other advocates say they worry the city will enact half-measures to accommodate commuters affected by the shutdown.
"With nearby subway lines already jam-packed, replacement shuttle buses must be as efficient, seamless and subway-like as possible, with 24-hour bus lanes and free service to draw riders and mitigate the inconvenience," Danny Pearlstein, the policy and communications director for the Riders Alliance, told Curbed.
Back in Ridgewood, Aposto Teodosia wonders how she will get around once the train stops running into Manhattan, where she works as a babysitter.
Teodosia acknowledged that the shutdown seems necessary to repair an ailing system hobbled by Hurricane Sandy, but said it means tacking on another half hour to her commute.
"I don't know what I'll do. I'll have to walk to Knickerbocker Ave [where the M train stops]," Teodosia said. "It's going to make my trip an hour and half."