THOMAS: How to Help the 'Accidental' New Yorkers Separated From Their Families and Shipped to Upstate Prisons
By Claire R. Thomas
Director of the Asylum Clinic and an Adjunct Law Professor at New York Law School
"Where am I?"
That was the most common question I heard from the detained immigrant men and women I met when I visited the Albany County Correctional Facility last week.
While public attention remains focused on the horror that is family separation, the Southern Border has, in fact, moved to Albany. In the past week, over 300 individuals from 17 countries have been transferred to a county jail in Albany by Immigration and Customs Enforcement (ICE). Most of these men and women were in immigration custody in San Diego after crossing the U.S.-Mexico border. Others had already been detained for at least eight months at the Batavia ICE Facility near Buffalo, New York.
Capital region immigrant legal service providers, including the Immigration Law Clinic at Albany Law School and The Legal Project, are leading the effort to provide counsel, with support from the New York Immigration Coalition and partners from all over the state.
As a volunteer, I was charged with providing legal presentations on the first step in the asylum process to 60 people. With the assistance of correctional facility staff and volunteer interpreters, we made a plan for the day.
The first group we presented to consisted of twenty women. All wore the same bright orange outfit as the general prison population: orange t-shirts, orange sweatpants with "ACC Inmate" printed in white down the leg, and orange Crocs. Three of the younger women—all barely 18 years old—sat together. They held hands, prayed with bowed heads and softly cried before my interpreter and I began our presentation.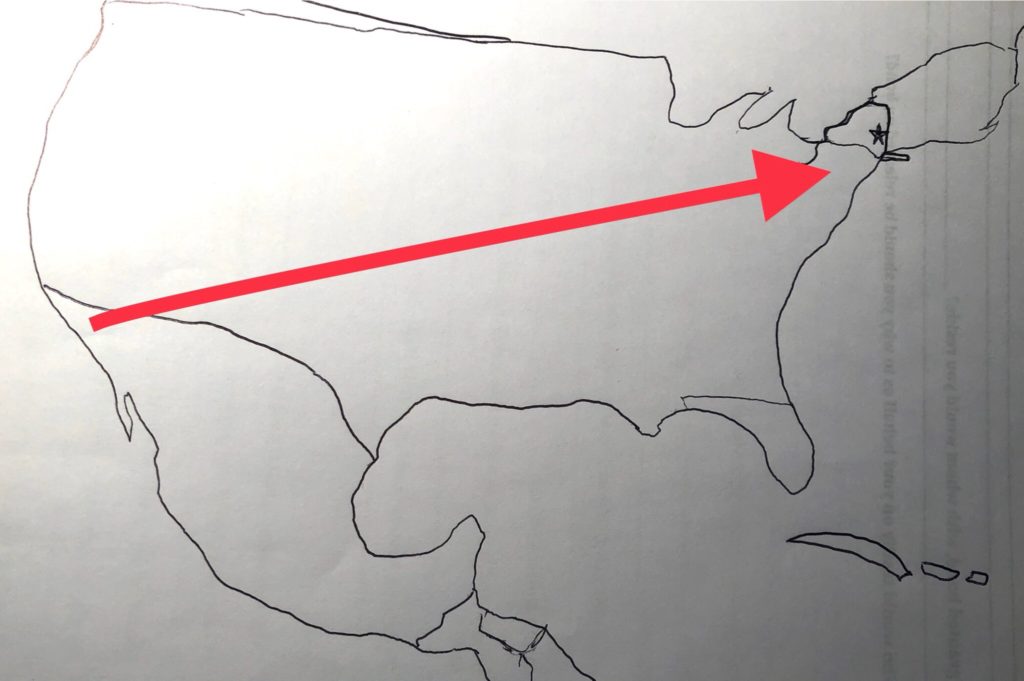 We explained our role as volunteers and our goal of informing them of the next steps in the legal process for recently arrived immigrants. Each person would undergo a Credible Fear Interview (CFI) with an Asylum Officer in the next week. We told them that we would, of course, answer their questions and try to provide as much individual assistance as possible. Some of the women nodded in agreement.
Expedited removal, a process codified in U.S. immigration law in 1996, allows for the deportation of individuals arriving in the U.S. without documentation or who were apprehended within 100 miles of any U.S. land border and who have not been formally admitted into the country and cannot establish that they have been in the country continuously for 14 days. Such individuals will be immediately deported, without seeing an immigration judge, unless they indicate a fear of returning to their home countries.
When an individual who would otherwise be subjected to expedited removal states that she is afraid to return to her home country, she is referred for a CFI before an Asylum Officer. Immigration regulations allow for the detention of an individual pending a CFI, and this is the situation the majority of the men and women detained in Albany found themselves in. However, many had already been detained for at least two months by the time we met.
To establish credible fear, an individual can show that she has a "significant possibility" of ultimately being successful on a claim for asylum or its related forms of humanitarian protection.
We explained the basics of asylum law to the immigrants in Albany and stressed the importance of telling the truth and of explaining to the Asylum Officer in detail upsetting or disturbing things that had happened. We urged the women to explain to the officer why they were specifically targeted and harmed.
Two of the women were concerned that ICE had confiscated the flash drives, memory cards, or paper evidence that they believed would be helpful in their cases. How would they establish a credible fear without this evidence, they asked?
Another woman tearfully explained that she had been separated from her children at the border. They were released to her sister in Los Angeles. How could she get them their vaccination records so that they could start school?
We repeated the presentation to two groups of men. Afterward, many of the men, with tears in their eyes, explained that they had been separated from spouses and children. Some of their family members had been released; others had not heard from loved ones for over a month and had no idea where their wives and children were.
During the presentation, five men raised their hands and asked if there was anything I could do to help them be deported faster. They had been detained for nearly two months and had been given no information. They were done. Their parents or loved ones were sick back in their home countries, and they were desperate to return. They calmly printed their names in my notebook and wrote "deportada" next to them.
Not one of the 60 immigrants I spoke with had friends or family Upstate or in the New York metropolitan area. In fact, none had friends or family on the entire East Coast. It became clear to me that there was nothing "accidental" at all about the transfer of these immigrants to an unknown facility miles from anywhere familiar. Like family separation, this was a cruel, deliberate plan to geographically isolate, disorientate, and terrify those who had already been ripped apart from their spouses and their children.
Many of the men and women I spoke to had crossed Mexico — a 2,000 miles journey — while carrying their children. Now, they are detained in Upstate New York, another 2,000 miles or more away from their children who are detained in Texas or released to relatives in California. Family separation is not only happening at the border; it occurs every time an immigrant parent and child are ripped apart right here in New York State.
These "accidental" New Yorkers need your help. The staff of the Albany County Correctional Facility stated their commitment to providing access to counsel to the immigrants in their care.
The Legal Project organizes volunteer interpreters in various languages to assist attorneys from the region and all over the state. What's more, a recent federal court decision now mandates that courts consider the release of any asylum-seekers who has passed their CFIs, meaning that bond hearings and parole might again be possible. Moving forward, the immigrants detained in Albany will need assistance raising and coordinating bond funds and travel expenses. Those who have no one in the United States will face the challenge of proving their eligibility for release.
Our legal system mandates that everyone has the right to apply for asylum. Stand up for those impacted by the Trump Administration's family separation policies, including our new neighbors Upstate, to ensure that due process exists for all.