Twister-Ravaged Park Is Site of Swastika, Noose & Dangerous Conditions
Funnel Cloud's Silver Lining Is Renewed Attention
By Dylan Campbell
Mirjana Karcic, a College Point resident, walks her dog through deteriorating Powell's Cove every morning, but on Thursday, Aug. 3 the park looked even worse than usual.
"It was like a disaster, like a war zone," Karcic said.  
Decade-old trees lay splintered in the path, smashed to bits, and pieces of homes and trash were scattered throughout the trees. The devastation prompted Karcic to share the conditions of the park, which she has been documenting for months, with the Queens Daily Eagle.
Her photos reveal racist graffiti, including a swastika spray painted on a rock, and a medical waste container discarded next to a garbage can.
The swastika was painted on the rock in April, Karcic said.
Parks Department officials scrubbed the rock months ago, a spokesperson for Council Member Paul Vallone told the Eagle after reaching out to Parks.  
"Racism and bigotry has no place in our community," Vallone said.
But the racist symbols and dangerous conditions persist, Karcic and other residents say.
"It's really, totally, completely neglected, ignored," Karcic said. "You call 311, you call Park Authority. You send them an email. You report, but, pretty much, you get ignored from them."
Kathryn Winiariski Cervino, the president of the Coastal Preservation Network, said a dead body was found in the park and residents recently encountered a noose hanging from a tree.
Cervino posted a photo of the noose dangling from a tree branch on Facebook on Aug. 6.
"Another big issue is that upkeep needs to be better so it doesn't get so overgrown. We also need some lighting to deter drug use and drinking," Winiarski said.
She said the overgrowth may have given cover for recent incidents.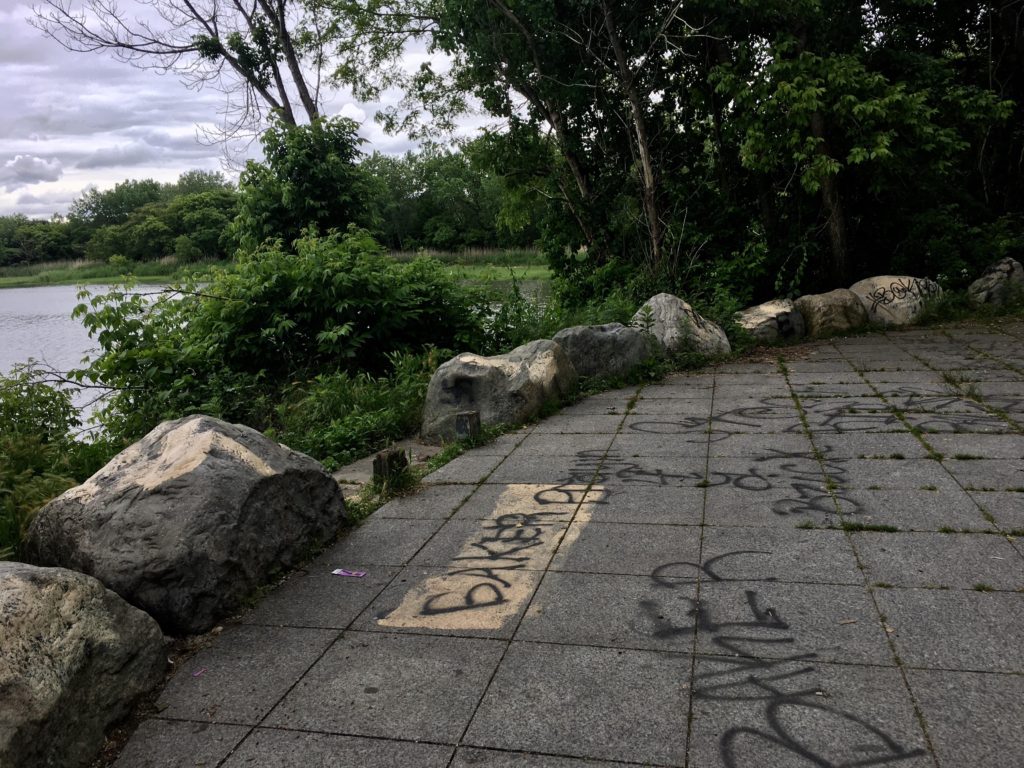 The Eagle reached out to residents the day after a twister tore through College Point, ripping down electrical wires, sucking the siding off houses and uprooting trees. The funnel cloud, which is 100 yards wide, grew in strength as it moved toward Powell's Cove Park where it tore through the wooded wetland, felling 50 trees. It was the first tornado in Queens in more than five years.
Though it's path of destruction was short, inside the tiny nook of nature, the tornado's damage felt significant.
But residents aren't seeing the damage as all bad news. They hope that the funnel cloud's silver lining may be that more attention is paid to the park, which residents say has deteriorated for years into a canvass for white supremacists, drug dealers and crime.
In 2017, nine calls were made to 311 about the park. In 2018, seven calls have been made in comparison to four in 2016 and one in 2015, according to the city's open data on 311 calls.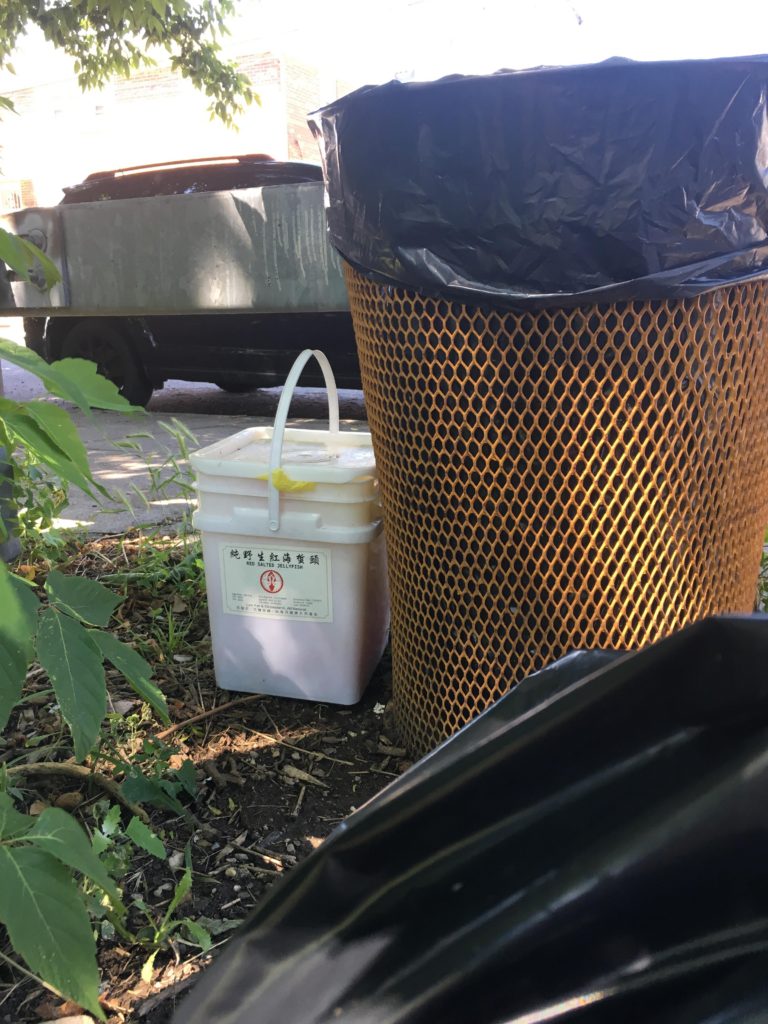 "Have [the Parks Department] come regularly to clean it. We need more garbage cans. We need the police to come and patrol the park a little bit more often," said Karcic, adding that she believes that the overgrowth and neglect of the park has attracted drug dealers.
A Parks Department representative said the park is serviced at least three times a week by Parks staff.
Resident say they do not see the results, however.
Elizabeth Cuccia, another College Point resident, said it seems like the Parks Department only comes once or twice a year and that weeds and invasive trees grow several feet tall.
In a Facebook poll in a community Facebook group, 35 people agreed that the park is dirty.
"It can be cleaned up better. Always see a overflow of garbage at the main entrance. They need more trash cans around the park," said one Facebook commenter.
Another resident said she no longer walks her kids through the park she described as a "dumping ground" after seeing teens doing drugs along the path.
She's not the only one that steers clear of the park for safety.
"When paths are so overgrown and at night it is completely dark, it feels less safe, coupled with recent incidents that have everyone on edge," Cervino said.
Some residents even take the park's cleanliness into their own hands.
"Doesn't matter what park it is it's that small percentage that make the impact of littering," wrote Joe Oliveri, saying he picks up litter when on the trail. "I know it's the Parks Dept responsibility but they're staff cannot handle the 2.4 mile stretch, besides the litter can potentially wind up in Little Neck Bay, not good."
The Parks Department said the area poses some unique maintenance challenges.
"This is a natural site, and is not designed in the same way as our playgrounds so site damage is not as easily identifiable," Parks said in an email.
"Assessing overall damage takes time and will happen in tandem with finding and removing fell trees," Parks said. "Since the storm, our crews have been working daily to expedite the clean-up effort."
After the twister downed dozens of trees, Powell's Cove Park is open to the public, and most of the paths have been cleared of debris, Parks said.
In their evaluation they said there was no damage to the salt marsh area of the park, but they will continue to monitor the area.
Salt marshes act as natural filtration systems for the cove and the East River, improving water quality and reducing erosion while housing wildlife. The Parks Department said they will be monitoring to ensure the preservation of the land.
And with more eyes on the park, residents hope the park's issues will finally come to light.
"I love our Powell's Cove," said Karcic. "This may be a turnaround point and that the park will get the respect it deserves. It should be walking through the nature. There are birds. There is bright light there. There is just a piece of little nature you have in the heart of the city, and it should be appreciated by everyone."