Van Bramer Is Latest Lawmaker to Clock School Speeders
By David Brand
The site of local lawmakers gripping radar guns to clock drivers outside Queens schools has become a familiar one for motorists cruising through Queens school zones this summer.
Ever since the State Senate allowed the school speed camera program to expire last month, Assembly Members, Senators and Council Members have united with advocacy organizations to keep the issue front and center in the minds of senate Republicans, constituents and drivers
With schools set to open for classes in less than three weeks, District 26 Council Member Jimmy Van Bramer headed to the Razi School on Queens Boulevard yesterday.
Van Bramer's district has seen its share of collisions.
The website crashmapper.org, an interactive guide to New York City car accidents, plotted 94 total collisions resulting in 124 injuries, in Community District 26 in July.
From July 2017 to July 2018, Community District 26 recorded 1377 total crashes, which resulted in three deaths. Vehicles struck 140 cyclists and 225 pedestrians during that span.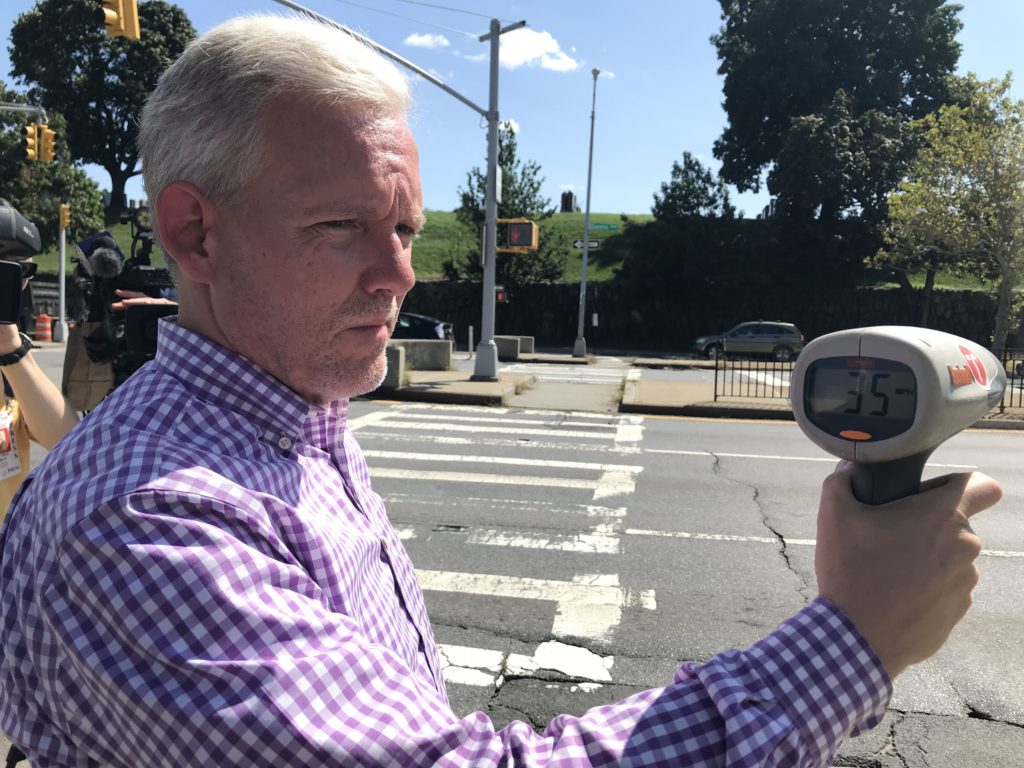 On Aug. 14, Mayor Bill de Blasio announced that the school speed cameras, which remain operational for data-collecting purposes, recorded 132,000 drivers whizzing through school zones at more than 10 miles per hour over the speed limit since July 25, the day the camera program expired.
"It's astounding how many people speed when they think they can get away with it," De Blasio said during an appearance on NY1.
Juan Restrepo, Queens organizer for Transportation Alternatives, said the expired speed camera program will put even more people — particularly children — in danger in Long Island City, Woodside and Sunnyside.
"Letting the school based speed safety camera program expire has emboldened drivers to flout the law, and will put more than one million school children at risk of injury and death come September," Restrepo said. "Students at schools like the Razi School on Queens Boulevard are especially vulnerable. With their speed cameras no longer operating, their children are statistically more at-risk of speeding cars crashing into them.
Last month, State Sen. Jose Peralta, who introduced the bill to expand the speed camera program from 140 devices to 290, also told the Eagle that the lack of speed cameras will needlessly endanger kids.
"We cannot play politics with schoolchildren and New Yorker's lives, and this is why we must ensure we renew and expand the program," Peralta said. "Kids in summer school will travel to and from school on more dangerous streets. The same will occur when more than one million school children return to school after the summer vacation."